5 Study Apps for College Students
Studying in the twenty-first century means harnessing the power of mobile devices to keep information organized, link multi-media sources, and improve study habits.
Evernote – Free & Premium Upgrade
Evernote is a note-taking and resource organization app that works and syncs across laptops, tablets, and smartphones as well as a variety of operating systems and hardware: iOS, Android, Mac, Windows, etc. With the free version, you get 60MG of space and a slew of cool features, including the capability of using the app and software offline.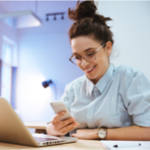 Boost the power of your notes—typed on your computer or handwritten and scanned—with associated links, checklists, tables, attachments, and even audio recordings. Clip web pages, images, and PDFs from online resources. The app then helps you keep everything organized and easily searchable by keyword—including handwritten notes. You can even search for text within an image. Never lose track of info you've jotted down in class, found online, or gotten from a classmate ever again!
My Study Life – Free
Designed by a student for students, My Study Life organizes and displays your classes, assignments, pop quizzes and exams, and lab time on an easy-to-use dashboard. Sync your schedule in the cloud and across all of your devices—including iPhone, Android, Windows 8, Windows Phone, and the web—so you can update your calendar whenever and wherever.
My Study Life supports week and day rotation timetables and weekly schedules, making it compatible with university calendars abroad as well as across the U.S. Receive notifications about incomplete tasks, upcoming classes, and impending exams with the mobile app, even when working offline.
SimpleMind – Free & Pro Upgrade
Mind mapping helps connect, organize, and synthesize ideas and information. It's also a helpful tool for brainstorming in groups. SimpleMind—which works across Mac, iPhone and iPad, Windows, and Android—allows you to add media to your mind maps, like images, video recordings, and voice memos. So, if you want to include a few slides from a lecture to your mind map of what brought about the fall of the Roman empire, you can!
SimpleMind also understands that we all think and organize information differently, so it allows for horizontal, vertical, top-down, and list auto layout to better represent how you process information.
Quizlet Flashcards – Free & Plus Upgrade
Quizlet's digital flashcard study sets don't give you papercuts, but they can do so many other things regular flashcards can't: they can include custom interactive diagrams and they can be shared between users all over the world. There's more than 200 million study sets and counting to choose from—what's not to love about this app?
With Quizlet, you can use other people's study sets or create your own on an endless range of topics. Once you have the perfect set of flashcards, you can study it with activities and games to stay engaged with learning. The app is available for iOS and Android, while the website is compatible on a variety of browsers.