You're Not Alone: Mental Health in College
Learn the symptoms and how to find help.
College is one of the most stressful times in life. You're spending thousands of dollars you don't have, studying complex subjects, and trying to remember what it looks like outside the library during midterms. Not to mention you're possibly thousands of miles from home. No one should blame you for feeling overwhelmed.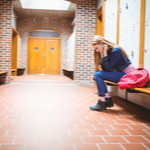 A World Health Organization global survey of 14,000 first-year college students found that one in three students struggles with some form of mental illness. The most common being a major depressive disorder with general anxiety a close second.
It is OK to ask for help. If you don't know what resources your school has, ask a professor, your RA, or the tuition office—ask anyone. Unfortunately, not all schools have easy-to-access help for their students. But that doesn't mean help doesn't exist.
The National Suicide Prevention Lifeline is (800) 273-8255. If you can't find resources in your area, or you don't want anyone to know, call them. You can call them anytime, there is no prerequisite before you reach out. They will chat with you and listen. They are a resource to help you find local help too. The National Suicide Prevention Lifeline is also a great resource if someone you care about seems to be struggling.
Another place to look if your campus doesn't offer mental health services is your local community mental health organization. Search for them online; there will be someone who can help. Community health organizations are often low or no cost and don't require insurance.
A lot of schools have student groups that are there to help too. If you need help or want to help, these are great assets to look out for. Some people don't feel comfortable in one-on-one sessions and a group of their peers might work better for them. That is perfectly fine. If it makes you feel healthier, it is the right thing for you.
Sometimes we don't see the problems ourselves. If you know someone who you think is struggling, reach out, talk to them—if something just doesn't feel right, contact the police. If someone you care about displays any of these warning signs, seek help for them:
Talking about wanting to die or to kill themselves

Looking for a way to kill themselves, like searching online or buying a gun

Talking about feeling hopeless or having no reason to live

Talking about feeling trapped or in unbearable pain

Talking about being a burden to others

Increasing the use of alcohol or drugs

Acting anxious or agitated; behaving recklessly

Sleeping too little or too much

Withdrawing or isolating themselves

Showing rage or talking about seeking revenge

Extreme mood swings
Preventative measures are also helpful. Studies show regular physical activity helps protect against depression; sign up for a gym class or take a lap around campus. Make it about you. Treating yourself is another proven way to help. Take yourself to the movies or get a fresh haircut. They aren't going to solve everything, but they can help make a day a little easier.
It is never too early or too late to ask for help. Your feelings are just as valid and important as everyone else's. Seeking help is always the right answer.