Get the Most Out of Being a Student
Find out where being a student will save you the most!.
College isn't cheap. But you have a special power in your pocket that can help—your student ID card. Sure, everyone knows that one coffee shop near campus that offers 5% off, but they inflate prices and that guy playing guitar, ugh!
Apple and Amazon have well-known student discounts for products and services. If you don't know about student night at your local movie theater, they probably have a student night and now you know.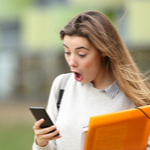 There are a ton of companies that have pretty good student discounts, a lot of which aren't advertised. Never be afraid to ask for a student discount—the worst they can do is say no. And there's nothing wrong pinching every penny you can!
Here are some of the better discounts that you might not know about:
FedEx – Enjoy 20%–30% off depending on the size of the package. Just show your ID when paying.
Sam's Club – If you are a student and register with UniDAYS, you can get a $15 e-gift card with the purchase of your membership. If that isn't reason enough, free samples on the weekends means free lunch!
Amtrak – Depending on where you're going, the discounts are going to be different. Taking the train could also be faster than flying if home isn't too far from school.
Every cell service provider – Some offer discounts on plans, others on phones and accessories. If you're in the market for a new phone plan, shop around, flash that ID, see what works best for you.
Penske Trucks – Moving back to school? Terrible roommate you just need to move away from? Get a 10% discount, unlimited miles on one-way trucks, and no underage surcharge.
Carnegie Hall and The Met – Both legendary New York City performance halls offer discounts on certain tickets. In fact, most performance halls, symphonies, and the like have some sort of student discount for tickets. Perfect date night.
Cars – Most auto manufacturers offer something for students. Some even offer discounts for recent alumni. Make sure you ask your salesperson when looking for a new car.
Ski/snowboard passes – Whether you go to school in the mountains or are planning to take a trip, spend a few minutes searching for discounts. Many are only available pre-season, so plan ahead.
Goodwill – Flat broke after buying textbooks? Want a fresh look for the weekend but still can't afford the thrift store? Depending on where you are, Goodwill stores offer a discount of 10%–50%!
The Mall – Levi, The Limited, J. Crew, and others all offer student discounts. Just ask at the register.
Hotels – Many chains offer a discount for groups. Some booking sites offer their own student discount. They change all the time, so keep an eye out if you know you'll be traveling.
Insurance – Most discounts are for car insurance and have a grade point average associated with them. So, study hard, get good grades, drive safely, and save money.
Honorable mention – Ikea, because you need furniture. Technically not a student discount because it's open to everyone, the Ikea Family card has some perks. Food and furniture discounts are probably the most important. Or the free cup of coffee for every member to enjoy while shopping. Or studying—they have free Wi-Fi!
Never be afraid to ask if there is a student discount. Some places use them to help drum up business, some offer them because they know without a discount they'd lose a section of their customer base. And sometimes you might get lucky and an employee might hook you up just for asking.