Where to Get the Capital to Start Your Own Business as a Student
Learn where to find start-up capital while you're still in college.
Funds are going to be short while you're in college. But you're also going to be surrounded by hard-working, creative-thinking, get-it-done-no-matter-what people and tons of resources. So the idea, drive, and ability to get projects off the ground is there, but the money to make it happen might seem elusive. It's there, though! Keep reading to find out where to find it and how to get your project going!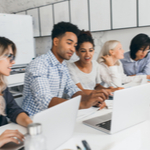 The Dorm Room Fund — The Dorm Room Fund is open to anyone from any institution. As long as one member of the founding team is an undergraduate or graduate student, they can apply. Accepted applicants receive a $20,000 check, mentoring, and a great network of other startups. Many large colleges and universities offer their own startup funds or incubators, but more on that later.
Your school — Harvard, MIT, and Stanford are all well known for pumping out business starters. But your school most likely has a venture fund in place. The best part is, most of them are equity-free, meaning you and your team don't give up any shares of the startup to get the money—something most other funds require.
Be specific — Smaller schools often still have funds or grants available, but they are focused on specific areas. Technology, environmental, or art are typical areas of focus. If you can pitch your idea to fit in any of these areas at all, you have a decent chance of getting some money to help move things along.
Venture firms — Most venture capital firms realize colleges are a hotbed for innovation. As a result, most have specific programs for students to participate in. They aren't going to be as easy to find as on-campus options, but they can offer much deeper pockets and the ability to push your idea well beyond the incubation stage.
Crowdfunding — Depending on what your idea is, there is a crowdfunding platform for you. Indiegogo, GoFundMe, and Kick Starter tend to cater to different crowds, so do your research. Targeting the right group could make or break your project. And don't lose hope if your project doesn't hit its funding mark on a crowdfunding platform. The general public doesn't always have its finger on future trends.
Friends and family — A lot of companies have started with a few thousand dollars from friends and family. With a little start-up capital and a garage, you, too, could build the next multi-billion-dollar company, like Apple or Amazon.
Loans and credit — If you can't get funding from anywhere else, you could apply for a business or personal loan or use a credit card. This should be a last resort, however. There is a huge risk of failure—20% of business shutter in the first year and 50% close within five—which would leave you still responsible for paying off the debt.
Government grants — Depending on your project and what you hope to do with it, you could qualify for government grants. These are usually very specific in the intended goal, so don't expect to pivot your idea to something else. But you don't have to start a business to get government grants; some allow you to study an area of interest or explore a concept. You will have to spend time issuing updates, so if you don't want anyone watching you, this is a bad option.
The money is there if you want it. You need to bring the drive, passion, and ideas. So sit down, start brainstorming, work on developing your idea into a tangible product or service, and then go to those with the cash and show them. Worst case, you get advice on how to transform your idea to make it better and come back. Best case, you get seed money to start working on your dreams.