Internships
What you need to know to get the best opportunity.
The job market is going to be tough once you graduate. Companies often want new recruits to have some real-world experience. The experience and lessons you're learning in the classroom helped build a knowledge base you can use in the real world. Taking that base and executing on it is what internships are all about.
But finding the right internship and, more importantly, landing it takes some skill. Here are some ideas on what you can do to find the best possible internship.
Before you can apply for an internship, you need to find one to apply to. Here are a few tips on where to find the best internships: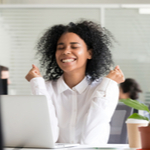 Google – Not actually at Google, but use the search engine to conduct a general search. You can find places like local businesses that would be in line with what you're studying. Google is a great resource for internships.
The career center – Sometimes local companies will rely on them to fill internships. It might not be worth their time for an internal HR department do the recruiting, so they farm it out. A career center is a good place to visit in general. Not only can they find internships for you to apply for, but they can also help you hone your resume and practice those interview skills.
Job fairs/networking – Networking events and job fairs are full of people looking for jobs and recruiters looking to fill jobs. Pass out your resume, talk to potential employers. Take notes on how people from different companies act and use that to find a good professional fit or to tailor your resume.
Job boards – Indeed, Glassdoor, and Monster all have internships available. Internships.com is specific to internships. Searching job boards can be helpful if you're looking for an internship out of state.
Call – Some companies have people or departments who handle internships. Calling and talking with these people could be a foot in the door that you need. This method is especially helpful if you're looking to work for a specific company.
Finding an internship is only half the process. Submitting your resume and interviewing are crucial. Learning to customize resumes and tailoring interviews to the job is an important skill. Here are a few things to think about before you send in your resume and sit down for the interview.
Research – Know who you're trying to communicate with. Know the company and take some time to look up the decision-makers on Linkedin.
Pay attention to details – If they are looking for someone who is proficient in video, list what editing programs you have used. List what programming languages you know and give examples of projects. Put together a writing portfolio.
Dress to impress – The intern is the lowest ranking person in the office, but that doesn't mean you can dress like it. Wear your best workplace attire for your interview. If you don't have a nice suit, rent one. Go to a discount store to find work-appropriate clothes. Borrow something from a friend or family member.
There are a few things to watch out for with internships. The main one is that you might not count as an employee. The Department of Labor has a few rules companies are supposed to follow. But the best way to keep things in check is to look for internships that either pay or have a program in place with your school to offer course credit.
No matter what, remember the point of an internship is to learn. Not just about the subject matter of the job, but how to navigate real work environments. If anything, you should walk away knowing more about how to actually do the job, but also how to fit in and succeed in a work environment.